Smile Design project edited with Ruthinium Digital Preview software
There were upper full denture and lower removable denture in patient's mouth, but patient was feeling uncomfortable, and willing to re-do the upper full denture. We took a 2D picture with old dentures inserted (left side), then imported into the DSD software- Ruthinium Digital Preview software, the picture on the right was the effect after design (a small gap between 11&21 was required). The result of design could be shared with the patient in real time, which can be exported and imported into Maestro software for reference during design process once patient was satisfied with the result.
Upper and lower intraoral scanning with Shining 3D Aoralscan
The upper and lower jaw data were obtained by AoralScan from SHINING 3D, Which would be used for the subsequent denture design. Thanks to the comfort of the intraoral scanner, patient did not have any vomiting and other reactions , and the jaw data was captured quickly and efficiently.
3D Prosthetic project edited using Maestro 3D – Denture Guide Ruthinium software
Smile design in Ruthinium Digital Preview software was imported into Maestro software as a reference for tooth arrangement.
3D project of "Denture Guide" prosthetic tool by Maestro
After denture design was completed , denture guide would be generated ( guide could be divided into 2 parts , one part was a base , another part was used for tooth positioning). It could be used to determine whether the vertical height and fitting  of the denture were suitable .
Printed Denture Guide with Shining 3D AccuFab D1
Denture guide prosthetic tool finally assembled
Positioned teeth into Denture Guide
After try-in, the artificial tooth arrangement could be completed through the guide , Since the height and arrangement had been designed , there was no need to consider about the vertical height and position of teeth.
Checked in articulator
Checked the bite in articulator, this was important.
Printed muffle with Accufab D1, resin Ortho IBT by Keystone Dental
After everything was confirmed ,teeth were positioned in the muffle (muffle could also be generated in Maestro software), and resin for base could be injected.
Finished the denture.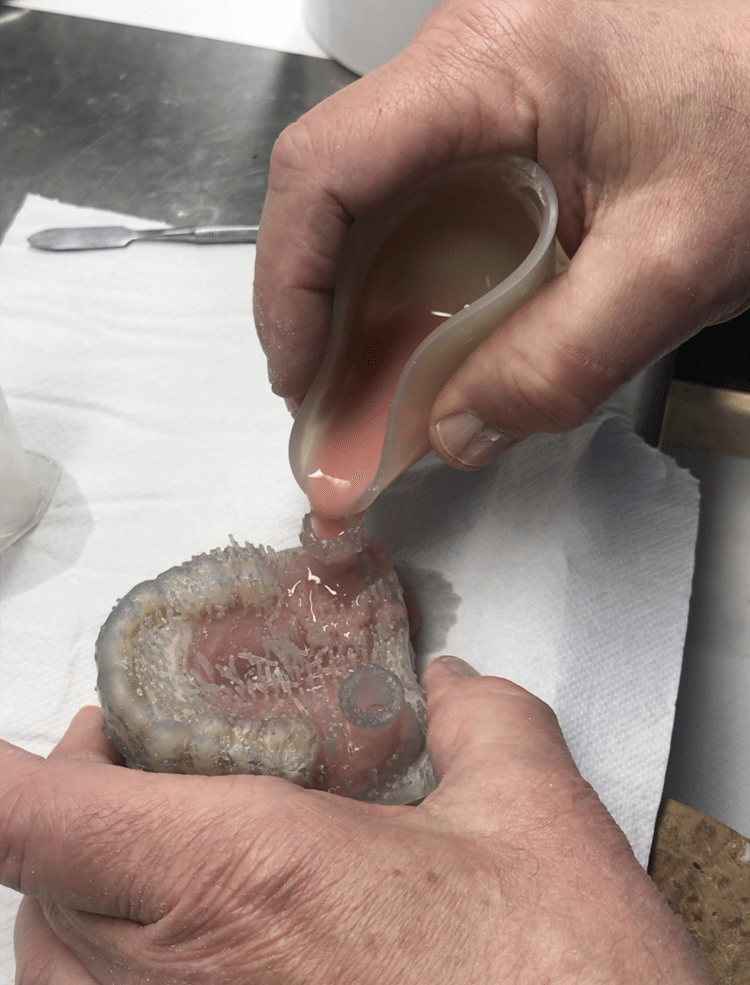 Acrylic resin was injected in the muffle, and after a while the denture was taken out of the muffle.
Final result in patient's mouth
At the very last, we want say thank you to Dr. Federico Guerci and Odonto5 Lab, they are the author of this case study. Thanks for sharing such a case study to us.